This is my Chris Carter devotion site-the newest site on the web devoted to the man who brought us such classics as Millennium, Harsh Realm, and, of course, The X-Files.
UPDATED 27/06/00
New Page: What Does That Mean?-looking at what all those cryptic names mean!

UPDATED 26/06/00
New Review: Jersey Devil
Reviews: Re-arranged, quotes and pics for the next few episodes added.

UPDATED 23/06/00
New Reviews:Pilot and Deep Throat
New Pictures
New Miscellaneous: Pics from 'The Springfield Files'
Filmography/X-Files Eps Finished (whoops-missed S5 Onwards)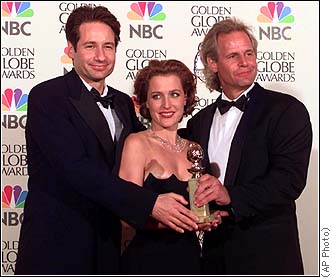 This site is soon to include pictures, detailed reviews of Chris' creations, by me and other people, a biography of the man himself, additional information and background reading on the subjects of his shows, article, interviews...the list goes on. So, draw up a nice comfy chair, get yourself a cup of Starbucks, and take a look around!